Montrose Plumbing Contractor and Heating & Air Repairs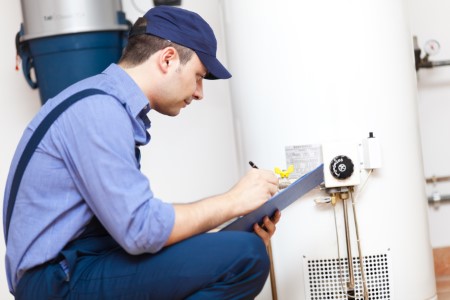 It's our priority at Aqueduct Services to make sure the most important parts of your home are functioning optimally. The two things that are the most crucial factors in the comfort your home provides you and your family are its plumbing and whatever you use to heat and cool your home. Out Montrose plumbing and heating & air contractors will make sure that those systems are running as efficiently as possible. When you need any maintenance or repairs we'll be ready to give you the most professional and highest quality workmanship.
We've been providing the Montrose area with quality plumbing, heating, and AC repairs for 50 years. We've developed a reputation as the most trusted and reliable contractors in our field, and it wasn't by accident. Our Montrose plumbing and HVAC contractors consistently provide top-of-the-line, guaranteed service. We'll always provide upfront, accurate estimates of our work. And we'll discuss the work with you in plain English.
To schedule an appointment for any repairs, give us a call today and we'll be looking forward to working with you.
Montrose Plumbing Services
One thing in your home you don't want to have in bad shape is your plumbing. So when you hire Aqueduct Services, we'll make sure your plumbing is running perfectly, the way only a professional can. The plumbing systems in most homes are fairly intricate and complex. And if you have an older home, chances are a lot of people have poked around with your plumbing, and not all of them were professionals. So you may have quite a mess of pipes down there. Our Montrose plumbing specialists can make sure all your repairs are done professionally and that your plumbing is in excellent.
Finding the cause of plumbing problems can be difficult, and less experienced plumbers may repair only the symptoms. When you hire our Montrose plumbing specialists, we'll guarantee you thorough and accurate work.
Montrose Heating Repairs
Problems with your heating are more than just an inconvenience during the colder parts of the year. Depending on when your heater has the problem, it may be a serious safety issue. During the winter, you and your family can't "tough out" a few nights with a malfunctioning heater. So when you call us for repairs, we'll be on the job as quickly as possible. We can work on any type of heating unit, including boilers, heat pumps, and furnaces.
Montrose Air Conditioning Repairs
Once the summer is in full swing, your air conditioning system is just as important as Montrose plumbing or heating systems. So we'll have the same urgency when you need any repairs for your AC during the cooling season. And we can also give it a tune-up before the heat rolls in to make sure you can cool your home as efficiently as possible.