Westchester Bathroom Remodeling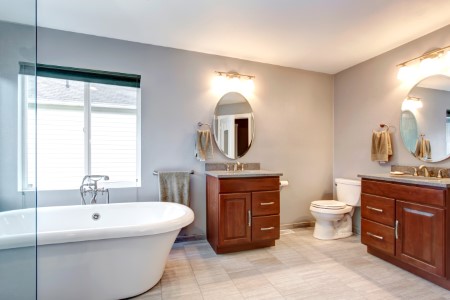 Bathroom remodeling can do so much for your Westchester home. Your Bathroom is a sanctuary, and it's also where you spend over one quarter of your life.
Make sure yours is not only comfortable, but working at 100% efficiency. Let a Westchester professional plumber make sure you bathroom is in tip-top shape.
Whether you need to convert a tub into a standing shower or maybe you just decided to have your bathroom redone, make sure you have a professional plumber handling all the plumbing work. A guarantee is always a nice peace of mind, letting you, the customer, know we stand behind our work.
Don't settle for just any plumbing company to take care of your bathroom remodeling. Aqueduct Services can make the most of your project and can save you time and money in the end.
Making Good Choices About Bathroom Remodeling Work
Trust a company that has the right experience and knowledge to deal with any and all situations that may arise in your bathroom. At Aqueduct Services there isn't much that we haven't seen, and that experience is put to use every time we step into a bathroom.
We're the trusted crew for projects like this and kitchen remodeling. So, what makes us the ideal team for your bathroom remodeling?
At Aqueduct Services there isn't much that we haven't seen, and that experience is put to use every time we step into a bathroom. We make sure everything is functioning and is prepared for what may come.
We can also explain decisions and present options to you in case your problems fall outside the realm of normal. It's important to us at Aqueduct Services that you are completely satisfied with our bathroom services and we will strive to make sure you are 100% happy with the results.
This is not small home improvement - it is often a huge project undertaking and a large investment for the homeowner. Since bathroom renovation can involve extensive plumbing work and plumbing installations, you should avoid trying to do it yourself and leave it in the hands of the professionals.
Do you need a handicap accessible bathroom? Sometimes remodels are a necessity.
These types of bathroom remodels pay extra attention to detail and insure that not only done well, but completely safe to the users. A fully licensed plumber should understand all the laws and requirements for this special-case remodel, and be able to carry out all the necessary changes with full confidence in their work.
For optimal results from the bathroom remodeling for your Westchester home, give our experts a call.