Sewer & Drain Replacement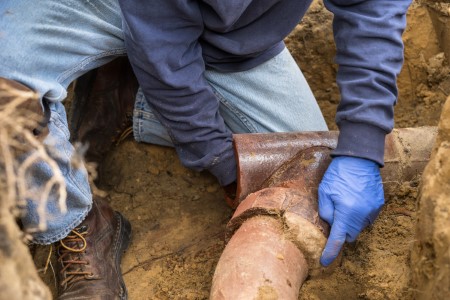 Being a local leading Westchester plumbing company means offering sewer and drain replacement. While we're certainly specialists when it comes to drain repair and clogged toilets, sometimes the magnitude of the job is much greater than that.
The bottom line is that our job here at Aqueduct Services is to address the plumbing problem at hand. That often means locating and identifying the issue at hand. Don't settle for less than the best when it comes to the quality of work you receive for your sewer and drain replacement.
In fact, don't take chances because you need honest feedback from an industry expert about whether you need replacement or just repairs. Our best interest is your total satisfaction and we'll always opt for repairs when it's the most cost-effective and suitable solution.
Keep Things Running With Sewer & Drain Replacement
There are a number of reasons you may end up needing sewer and drain replacement. Some of the most common reasons include:
Broken Pipes - From old age, to frozen soil to tree roots, there are plenty of factors that impact your pipes. The important thing is that you let your team of pros get to the root of the problem and then rectify it. This is an issue that often gets misdiagnosed or overlooked when a homeowner attempts to DIY their plumbing work.
Corrosion - Over time, it's only natural that older pipes will get corroded and this can lead to major problems. Replacing old pipes and your sewer or drain makes a world of difference.
Sewer clogs/blockages - Anything from grease to foreign objects can cause problems with your sewer. First, we'll teach you how to avoid this kind of problem but we'll also work to identify if this is the cause of your existing plumbing issues.
When it comes to getting sewer and drain replacement for your Westchester home, make the smart call to our team of experts.