Boiler Repair & Replacement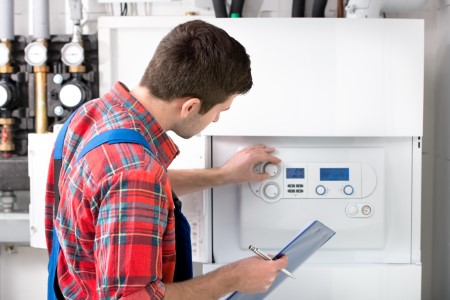 The residents of Westchester County have trusted Aqueduct Services with all their boiler repairs and replacement work for over 35 years. Don't let yourself shiver this winter, let us repair your boiler and raise the temperature in your home!
Our local Westchester technicians know how to make an efficient and trustworthy repair to your boiler in a short amount of time. We also offer annual Westchester County tune-ups to keep your boiler working all winter.
Westchester County can get chilly, and when it does, it's nice to know that your boiler is ready to jump into action, and Aqueduct Services is here to make sure it is!
We're more than just your neighborhood plumbing company; the superior quality results we offer extend to include work like boiler repair and replacement. The work we do will optimize the performance and lifespan of your heating system, so call us today for your Westchester boiler and replacement.
Westchester County Steam Boilers Installations
How will you know when it's time for boiler repair and replacement? Is your boiler making odd clanging noises? Or running slower than it used to? We can fix all of these problems in one visit with expert boiler repairs today.
Don't hesitate to call us and ask about our 100% guarantee on all our heating repairs. We make sure that all of our Westchester customers are completely satisfied with their boiler installations, repairs, and tune-ups.
Reliable Boiler Tune Ups and Regular Maintenance
Timely and Considerate Home Service for all Makes and Models of Boilers
Licensed, Bonded, and Insured Heating Technicians
We've built a strong reputation on our ability to deliver superior results for all of our heating services, and this includes the work we do with boilers.
This includes services such as:
Boiler Repairs
Heating Repairs
Boiler Installation