Westchester Garbage Disposals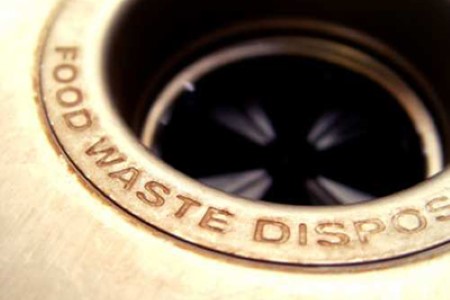 Is it time for a new garbage disposal in your Westchester home? Maybe you've been meaning to install one for months now and just don't have the time.
Whatever the case may be, our plumbing company pros can get your disposal installed faster and with far less headaches than a do-it-yourself job. At Aqueduct Services, we make sure everything is done right the first time.
This carries over to even the simplest task. We want to make sure that you're completely happy with your product and installation on the very first attempt, and our work lasts through time for you. Don't accept inferior workmanship from another plumber when you know we can deliver the best.
Understanding Your Garbage Disposal
Most people erroneously believe that a garbage disposal works like a blender, in fact it's really that opposite.
In a garbage disposal, there are generally three mounted lugs.
These hard metal posts rotate and force food debris to an outside non-moving grinding ring.
This causes the food waste to be broken down into very fine particles allowing for a clear passage through your waste lines and out to the waste water treatment plants.
There are many different brands of garbage disposals each with their own unique way of handling waste.
Aqueduct Services can install just about any version of garbage disposal out there for your Westchester home, but feel free to consult with us first to make sure you're getting the one that fits your needs and price point. We are always happy to walk our customers through the entire process from start to finish.
Whether this is part of a kitchen remodeling project, emergency repairs, or scheduled maintenance, we'll get the job done. Not only that, the results we get will meet and exceed your expectations.