Upgrade Your Home With The State Of The Art Temperature Control Programmable & Smart Thermostat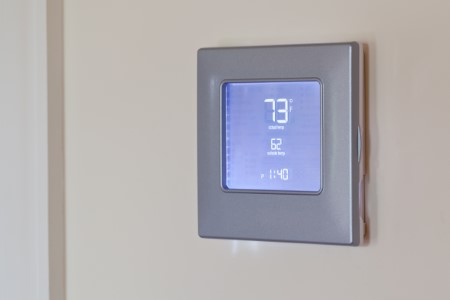 We carry a variety of programmable and smart thermostats to achieve perfect comfort for your Westchester home. Wi-Fi thermostats are the ultimate in home comfort and energy savings.
Our Trained Technicians can introduce you to all the benefits of having one of these thermostats in your home. To name a few we offer: The Lennox iComfort Wi-Fi Thermostat, The Lennox iHarmony System, The Nest Programmable Thermostat, Honeywell Lyric and much, much more.
We're a local leading plumbing company but so much more than that. We look forward to helping you better understand the benefits you'll receive from programmable and smart thermostats, and then taking care of installing them and getting you set up.
Know the Benefits as a Wise Consumer & Savvy Homeowners
Here is an example of some of the features of The iComfort Wi-Fi Thermostat, a programmable and smart thermostat:
1. Cloud connectivity gives you remote access to your HVAC system and lets you adjust the temperature and control your energy costs from anywhere, using your smartphone, tablet or laptop.
2. One-Touch Away Mode overrides your regular schedule when your away and automatically turns down heating or cooling to save energy.
3 The iComfort Wi-Fi will monitor itself with advance diagnosis, it can also send you and Aqueduct Services alerts and reminders if the system needs service or maintenance.
4. Programming is easy with simple touch screen interface.
Interested in upgrading to a better thermostat!
Call us today or request an appointment to schedule one of our Technician's to come out and help you find the right solution for your home; be it heating, air conditioning or plumbing.
We are rated A+ with BBB as well BBB accredited HVAC Contractor.
We stand behind our work. We offer 100% customer satisfaction.
All our Technicians are background check and drug tested so you feel safe.
For superior results from a Westchester expert for your programmable and smart thermostats, give our pros a call.
Recent Articles
Enjoy Some Great Benefits with a Smart Thermostat
In your home, comfort is everything. You're bound to spend the great majority of your time in your home, after all, and you should strive to ensure you'll enjoy that time to the fullest by enjoying t […]
What Common Reasons Could Be Causing Your Drains to Back Up?
The plumbing in your Westchester home is one of its most vital installations, as you'll use it every day to cook, clean, and bathe. Unfortunately, if you find yourself saddled with sewer line problem […]