Aqueduct Services: Pelham's Trusted Plumbing Company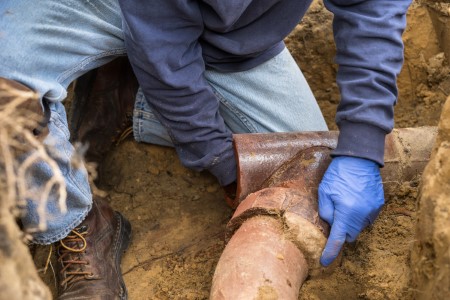 At Aqueduct Plumbing, it's our only goal to make sure that the parts of your Pelham home that are most important to you are in excellent condition. Your plumbing and heating & air systems are the two most essential parts of the comfort that your home provides to you and your family.
Our plumbing and heating and air contractors will do everything we can to make sure you get the best service available when you need repairs on these systems. We've been serving Pelham and the surrounding areas for decades now.
Over the years, we've developed a reputation as the most reliable and trusted plumbers and heating and air contractors in the area. Before every job we perform, we'll provide you with an honest and accurate estimate of the work and all of our plumbing and HVAC contractors are licensed, trained, and extensively experienced, so we can guarantee satisfaction with all of our work.
Call us today if you're in need of any repairs for plumbing or heating/cooling systems for your Pelham home and we'll be looking forward to work with you.
Pelham Plumbing Services
Your plumbing system is responsible in large part for the comfort of your home. So making sure it's working at its best is a necessity. When you hire Aqueduct plumbing, we'll make it a priority to ensure that your plumbing system is in the best condition possible.
The plumbing system in your home is most likely very complex and intricate and depending on how old your home is, it could've been repaired hundreds of times by different people, and not all of them professionals. Which mean it may be a huge mess but our Pelham plumbing contractors can make sure that it's properly repaired and you won't see the same problems cropping up again in the future.
Pelham Heating Repairs
Winter can in New York can be brutal. Going without heat for a night or two isn't an option when the temperature drops.
Being without heat isn't just an inconvenience or an annoyance. Sometimes, it's a matter of safety for you and your family.
So when you experience any problem with your heating, we'll respond as soon possible to your request for service for heating repairs.
We know how important it is to have heating in your home, and we're able to fix any heating unit at all, including heat pumps, boilers, and furnaces. Contact us immediately for superior plumbing or HVAC services for your Pelham home.
Pelham Air Conditioning Repair
When the summer months move in and bring with them temperatures in the upper 90s, your air conditioner becomes just as important as your heater was in the winter. So, we'll treat AC repairs with the same amount of urgency. We can also perform tune-ups and inspections on your AC to make sure it's as efficient as possible before the heat moves in.