Westchester Sump Pumps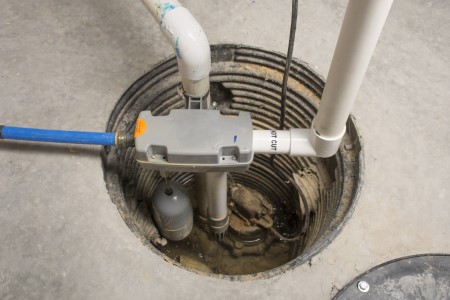 When it comes to Westchester sump pump services, we're the plumbing company to contact for superior results. Let's face it, your basement is on the bottom of the house, and out of sight, out of mind.
That also means you have to worry about flooding, or you could prevent it with a sump pump. No matter if it's a heavy rain season, or you have a sudden leak odds are the water is going to find its way into your basement.
The good news is that there is an answer - Westchester Professional Plumbers can make sure a sump pump is installed and functioning correctly which will allow for any basement drainage to be pumped out leaving your home dry and clean the way it was meant to be.
Protect Your Home With a Sump Pump
Sump pumps can be dangerous if not installed correctly. Most sump pumps are electrical in design and of course pump water.
As everyone knows, water and electricity don't mix that's why we at Aqueduct Services are specially trained to install sump pumps along with other water bearing devices. We'll make sure that your sump pump is installed and working safely 100% of the time.
So before your next major, oh no water! moment in your basement, make sure you have a Westchester Professional Plumber install a new sump pump.
Benefits of Sump Pumps
As with any component of your plumbing system that may need emergency plumbing, sump pumps are no different. However, if you keep up with maintenance, you can avoid repairs and just enjoy the benefits:
Prevent rainwater flooding
Reduces humidity levels
Makes it less likely for mildew or mold to develop
Avoid the likelihood of rot
Protects against sewage backups
Enhance indoor air quality by reducing humidity levels
For more information or to get started on your Westchester sump pump, give our team of experts a call.