Is a Tankless Water Heater Right for You? Learn the Pros and Cons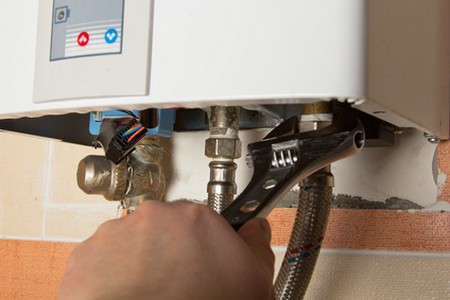 So, your old water heater is on the way out, and it's time for you to look into getting a new one. Why not consider a tankless unit? Tankless water heaters can offer some great benefits for any home – and some downsides, naturally. To know whether a tankless water heater is right for your Westchester County home, simply read on, and we'll detail some of its key pros and cons:
Tankless Water Heater Cons
A tankless water heater offers few downsides, but it does still have a couple to offer. Before you commit to getting this option for your home, you need to know that you'll also be committing to . . .
High Upfront Cost
We won't beat around the bush: Tankless water heaters cost significantly more than traditional units at the outset. Between the cost of retrofitting your home for this installation and the cost of the installation itself, you could find yourself set back quite a bit of money. If you're looking for a budget-friendly water heater option, you might want to look for an option other than tankless.
Inconsistent Temperatures
One of the most consistent complaints homeowners have about tankless water heater is, appropriately enough, about inconsistency. While this heating option does provide hot water instantly, that water temperature is not always consistent. If you're the kind of person who wants the same results every time, you might not be too fond of a tankless unit.
Tankless Water Heater Pros
If you can get past those two drawbacks, you'll find far more to love than hate in a tankless unit. After all, this water heater option offers some truly compelling reasons to buy – reasons which include the following:
Instant Hot water
Why do you get a water heater? To heat your water, of course. So, as you shop for a new installation for your home, you need to look for one that can offer the hot water you want when you want it. With that in mind, you can't do better than a tankless water heater. Also known as a "demand-type" water heater, this installation lives up to its name as it provides hot water as soon as you turn it on.
Long Lifespans
Tankless water heaters are designed to provide quality work in an efficient manner. This efficiency will pay off in the long run, as your tankless unit will experience little wear and tear over time. This minimal wear will directly translate into financial benefits for you since you'll avoid the need for costly repairs through the years.
Energy Efficiency
While we're on the subject of money-saving, we need to talk about another great benefit you'll enjoy with a tankless water heater: low-cost hot water. The above-mentioned efficiency will also be reflected on your monthly energy bills, which will be noticeably reduced, making a tankless unit the ideal water heater for the budget-conscious homeowner.
Call Our Westchester County Plumbing Company for Your Water Heater Needs
Have you decided that, yes, a tankless water heater is right for you, or have you decided to opt for a more traditional unit? No matter what option you want for your home, you can count on Aqueduct Services to provide the work you need. Call our Westchester County plumbing company today if you're in the market for quality water heater services.