Federally Mandated Changes to Affect New York Homeowners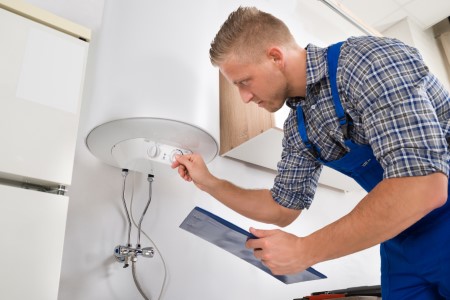 New York -The U.S. Department of Energy has put into effect new regulations that require all manufacturers of water heaters to meet a higher energy factor (EF) rating. Based on the new requirements, there will be significant changes to all types of residential tank water heaters manufactured after April 15, 2015, resulting in higher costs and limiting size options for consumers purchasing and installing new water heaters after this time.
The new regulations will improve the efficiency of water heaters resulting in annual energy savings for the homeowner, but initial purchase costs will be much higher than current water heater models.Higher installation costs may also be incurred due to increased complexity and space modifications required due to the taller and wider new units.
According to manufacturers, the average lifespan of a water heater is about 8-12 years. Daniel Grieco, owner of Aqueduct Services, Plumbing, Heating & Cooling in Valhalla NY advises that "Homeowners with a water heater that is 10 years old or older should consider replacing it now while they still have options. Manufacturers have already modified factories and begun producing the new high efficiency water heaters so inventory of current models is already limited. Very few are expected to still be available after April 1."
Factors that will impact homeowners replacing water heaters after April 15th:
Increased cost- up to 35% or more expensive.
Additional insulation and venting make installation more complex
New units are larger - at least 2 taller and 2 wider. Possible significant relocation or remodeling costs if water heater is located in a small space like a closet, utility or laundry room or even attic.
Less hot water available - some 50 gallon tanks will now only hold 46 gallons of hot water; some 40 gallon tanks hold only 36 gallons
Residential tanks over a 55-gallon capacity may no longer be available
Another option is a tankless water heater which takes up very little space and provides on-demand hot water. Tankless water heaters already meet the new EF requirements with an even higher efficiency rating and offer significant energy cost savings which can more than pay for the unit over its lifetime.
and consumer options on www.Aqueductservices.com. Aqueduct Services, Plumbing, Heating & Cooling also offers Putnam & Westchester County area homeowners a consultation with a water heater expert who will answer any questions about the new regulations, evaluate their existing water heater and provide information on options for their home's specifications.