Benefits of a Smart Thermostat | Westchester Heating and AC Company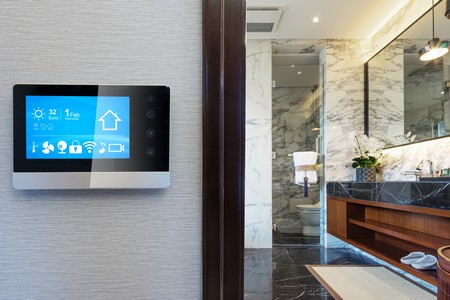 In your home, comfort is everything. You're bound to spend the great majority of your time in your home, after all, and you should strive to ensure you'll enjoy that time to the fullest by enjoying the best comfort in it. Of course, there's no better or larger-scale way of enjoying this quality of comfort than by maintaining dependable and consistent heating and cooling in it.
If you're looking to enjoy the most dependable and most convenient heating and cooling in your Westchester home, you should look into a smart thermostat. While this installation may seem a bit extraneous to you, you'll agree that it's well-worth the investment when you learn the benefits it has to offer. Read on to learn just a few of the great benefits a smart thermostat has to offer:
Automatic Heating and Cooling Changes
The temperature outside in the morning is much different than the temperature in the middle of the day. So, you'd only be throwing away your money to set your thermostat to the same temperature throughout the day. Plus, you'd only leave yourself with an uncomfortable home. Fortunately, you can save money and enjoy the most comfortable home with a smart thermostat, which allows pre-set temperature changes throughout the day.
Remote Access to Your Thermostat
When sudden fluctuations in outdoor temperatures occur, the more vigilant among you might concern over your home's temps. After all, sudden temperature changes can make your home uncomfortable and cost you money as your thermostat works twice as hard to correct those changes. You can stay on top of these issues with a smart thermostat's remote access capabilities, which allow you to . . .
Override your current settings
Change the temperatures when you're away
Monitor your home's comfort levels on the go
Money Savings
These abilities to pre-set the most convenient temps and monitor your thermostat all equal one great benefit: money savings. Owning a home is costly, so you should strive to reduce your expenses as best you can. When it comes to your heating and cooling costs, you can enjoy excellent money savings if you invest in an economical smart thermostat.
Call Our Westchester Team to Enjoy a Smart Thermostat Today
Are you just itching to enjoy the great benefits that a smart thermostat has to offer? Well, then, let Aqueduct Services scratch that itch for you today! Our Westchester heating and AC company offers quality smart thermostat products and services that will allow you to fully enjoy the benefits that this product offers and continue enjoying those benefits for years to come.